Big Win Tonight! Here are 5 thoughts.....
1. Well yesterday was quite eventful! We loose Lawrie for at least 15 days (Probably closer to 4 - 6 weeks) and Bautista for we don't really know long but it's got to be at least 3-4 games you would think. I'm not sure what that means to the team, but I would think that each loss means something different. The bat you loose in Bautista is irreplaceable, but the defence that you get in Gose as a replacement is probably an upgrade. The loss of Lawrie's defence at both 3rd and 2nd are not replaceable, but outside of his uncanny regard to hit with runners in scoring position you may not really miss his bat all that much. Time will tell how these two injuries will plague the team.
*side note...Loved the raw passion that Lawrie showed in his interview after the game on Sunday! Dude wants to be out there everyday and win for this team!
2. What a great night for Marcus Stroman tonight! The Dude does a complete 180 tonight from last week when the Yankee's took him to school. His FB looked sick and you could tell he really benefited from having an ump behind the plate that was a little more consistent than last week. Chase Whitley on the other hand was eaten up by the Jays. Not sure if the jays benefited from seeing Whitley for a second time, but they took what he was sending and weren't trying to do to much with it. 3. One thing I always wondered was why the Jays didn't go after more sinker ball pitchers since there are so many HR's hit at Roger's Centre. You would think that naturally a guy that would throw more ground balls would benefit, but after watching Chad Jenkins tonight I really started to re-think that...Well I guess if you're going to throw a sinker ball it should sink! That being said I think Masterson would be a good under the radar pick up for the Jays if they could get him on the FA market this off-season.
4. Today Jose Bautista made some interesting comments when asked what he thought of some fans jumping off the bandwagon (this was not the exact question) and he pretty much said If those fans who want to doubt they can cheer for the Red Sox and Yanks if they want to doubt them! Damn right Jose! This city if full of people who want to be able to say "I told you so" and to be honest I think people are just so fed up by being disappointed by the Leafs, Jays, FC and Raptors that we can't enjoy our team anymore without thinking they are going to fail!
*Side note...May not be a good idea to tell fans to cheer for other teams when your trying to get to the all-start game! Just saying....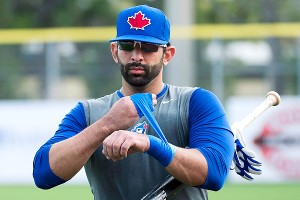 5. I've often thought of this since TD move their "Best seats in the House" seats to the 200 level, but There's no way those Seats are better than the ones that used to be on 1st base line! Someone at TD got duped when they re-wrote that sponsorship contract!