I posed this question the other day and I didn't seem to get much of a response back with a definitive answer. Given it is a tough question to answer, but looking at the Jays line-up these days i'm stuck with the feeling that we don't have much of a legacy within the current roster.
Let me explain what I'm saying here. Just a little while ago Carlos Delgado was honored with one of the greatest accomplishments a former Toronto Blue Jay could receive by having his name put among the great Jays of the past on the "Level of Excellence". Carlos is from the last bunch of Blue Jays who have seemed to be a home grown talent to excel in the minors right up until blossoming into a true bonafide All-Star (Others from that relative era being Shawn Green, Roy Halladay & Vernon Wells. Since Halladay & Vernon left the primary Jays "Stars" that have been players that have come from other organizations and haven't really come up through the organization from bottom to top.
Given Alex Anthopoulos has been one of the key people in bringing in this new talent to the organization from other clubs, the main reason for the lack of current home grown talent can pretty much be put on the JP Ricciardi era.
The lack of focus and constant change in direction during this era put the team's future in constant question.
Now i'm not going to go into a really deep dive into all the draft picks during JP's time as the Jays GM, but below is a quick look at all the 1st round picks made between 2002 - 2009. During this time we had 14 1st round picks and only 2 of them are still with the Toronto Blue Jays, given one was an All-Star this year, but leading up to his role change, both Brett Cecil and JP Arencibia have been good players, but are not guys that can have championship teams built around them.
2002
Russ Adams
Shortstop
University of North Carolina at Chapel Hill
(Chapel Hill, North Carolina)

14

[

39

]

2003
Aaron Hill
Shortstop
Louisiana State University
(Baton Rouge, Louisiana)

13

[

40

]

2004
David Purcey
Left-handed pitcher
University of Oklahoma
(Norman, Oklahoma)

16

[

41

]

2004
Zach Jackson
Left-handed pitcher
Texas A&M University
(College Station, Texas)

32

§[o]

[

41

]

2005
Ricky Romero
Left-handed pitcher
California State University, Fullerton
(Fullerton, California)

6

[

42

]

2006
Travis Snider
Outfielder
Henry M. Jackson High School
(Everett, Washington)

14

[

43

]

2007
Kevin Ahrens
Shortstop
Memorial High School
(Houston, Texas)

16

[p]

[

44

]

2007
J. P. Arencibia
Catcher
University of Tennessee
(Knoxville, Tennessee)

21

[

44

]

2007
Brett Cecil
Left-handed pitcher
University of Maryland, College Park
(College Park, Maryland)

38

§[q]

[

44

]

2007
Justin Jackson
Shortstop
Roberson High School
(Asheville, North Carolina)

45

§[r]

[

44

]

2007
Trystan Magnuson
Right-handed pitcher
University of Louisville
(Louisville, Kentucky)

56

§[s]

[

44

]

2008
David Cooper
First baseman
University of California, Berkeley
(Berkeley, California)

17

[

45

]

2009
Chad Jenkins
Right-handed pitcher
Kennesaw State University
(Kennesaw, Georgia)

20

[

46

]

2009
James Paxton*
Left-handed pitcher
University of Kentucky
(Lexington, Kentucky)

37

§[t]

[

4
That being said currently on the Jays current 25 man roster there is a total of 6 players who were drafted by the Blue Jays.
As I said before this isn't really knock at what the current organization has done with the team, since they have been forced to fill holes in the organization due to the lack of talent that has been brought into the organization over the past 10 + years, but in doing adding these new elements, the Jays have again been forced to trade away a lot of their younger talent in the hopes of providing a winning team to the Fans of the Toronto Blue Jays .
My worry now is that with a team that is forced to come together made up from a group of players that have grown up within other organizations the window to field a competitive team may end up closing before they can win and the organization will once again be forced to bring up/in talent that won't be able to compete in the AL East once the current talent is gone.
With all that being said I go back to my original question. What does it mean to be a Toronto Blue Jay? Right now I don't think we really know.....My hope is that the current team can turn the fortunes of the next few years around and carve our an identity that resembles what it was back in the 80's and 90's. Playing good fundamental baseball focused on winning.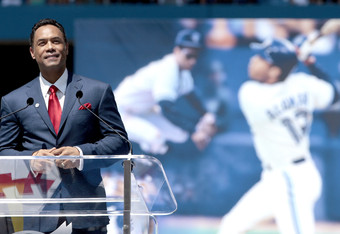 Given I am not an expert by any means (just a guy with internet access, an opinion and a laptop), but I think this is something that comes from stability within the organization. The organization needs to breed a culture from the ground up and ensure the same message and philosophies that is being preached in minors are the same all the way up to the Majors. Whatever that culture is, we need it to be bought into by all those who put on the Jays uniform.