June 5th is the 2014 MLB Draft. Still a favorite day of mine. Still don't know why...but I do. I have no real clue about any of the players in depth. No real idea of what the Blue Jays will do except that they will probably reach on a few young players who teams don't think will sign.
The Blue Jays have 2 picks in the top 11 this year, which would make you think that they could get two....well to be honest who knows what it gives them. They could end up with two guys who are studs, they could end up with two duds, maybe one stud and one dud....no other draft is even close to being as unpredictable with the outcome of 1st round talent.
Most mock drafts have the Jays either taking Pitcher Touki Toussain, Jeff Hoffman or SS Trea Turner, which is cool. I would think they would probably go with one pitcher and one position player, but they could go out and take two position players as it's pretty safe to say that the Jays system is easily the most missing of young talented position players.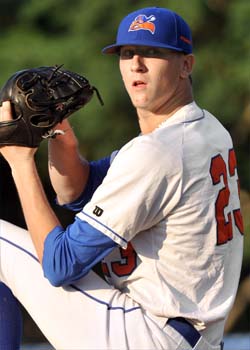 Either way it goes I know for sure I'll find myself on June 6th still glued to the live stream conference call of late round picks. Man I am more lame than I really thought!
Who do you think the Jays will take?