After another lengthy stretch since i've been able to find some more time to talk about a whole bunch of nonsense that i've talked through in my own head that I now believe that it deserves to be written down so others can read them.....
Anyways...5 Thoughts on The Blue Jays...
1. Much of the talk all spring training has obviously surrounded the contract situations of both Jose Bautista and Edwin Encarnacion. Numbers have been flying around and it looks like to me that neither one of these two will end up back with the Blue Jays next year and to be honest I think i've already come to grips with it.....I look at it this way...Most talks on the Jays front seem to want to keep the contracts for both these guys around the 2 -3 year mark, which would fall in line as to when JD would be set to become a FA again....Would you rather have a 33 year old Josh Donaldson or a 38 year old Jose Bautista or a 36 year old Edwin Encarnacion? or.....Would you rather have $$$ around to keep guys like say a Marcus Stroman in a Blue Jays Uniform? Let's face it with Big contracts for Russell Martin and Tulo for the next number of years this team is going to have to manage their budgetary dollars wisely and if you were to add two more big dollar contracts to that mix you really limit your opptions going forward.
I see this as a watershed moment for this organization however. Let's face it the Toronto Blue Jays are going to turn into a developmental organization. This organization is going to focus on drafting and developing it's own players which isn't a bad thing....It's actually a good thing. That is how sustainable franchises are built and the great thing about this is that The Toronto Blue Jays are going to be one of those franchises that will actually have the money to keep it's only talent after they have been developed properly. This won't be the Rays Folks, no need to worry on that front.
All the workings of Shapiro changing this organization for the better!
2. Not since Ricky Romero was destined for the 5th man rotation spot out of the 2013 Blue Jays spring training season as the 5th man in the rotation been such a hot topic! So I think it's fair to say that if you can't remotely pick up a subtle hints that have been dropped lately you should expect the rotation to be as follows (baring injury) Stroman, Dickey, Happ, Estrada, Floyd. With both Chavez and Sanchez in the Bullpen and Huntchison in AAA. Now I will say this....I really think Sanchez should be starting (I even picked him up in one of my fantasy leagues with the hopes he would be a late round sleeper), but with the way both Floyd has shown what he could potentially be and how important a shut down bullpen is I think It just makes too much sense to have Sanchez in the Bullpen to complement probably the deepest pen in the AL East if he in fact ends up there....Cecil, Storen, Sanchez & Osuna is scary...FU Yankee's
3. Looks like Kevin Pillar is going to be leading off for the Blue Jays to start the year! I guess I can say i'm a little indifferent to it all. I like Pillar and everything, but for me I would rather have seen Saunders hit in the leadoff spot. I will say this about Pillar, what makes me think he could succeed in the role is that we've all been witness to what he is able to accomplish if he puts his efforts towards something. If he puts half the effort he does to becoming a more disciplined hitter as he did for becoming an elite Major League Centre fielders he should become extremely serviceable in that leadoff position.
4. Am I the only one who is actually seeing quite the interesting Bullpen upon us? For real....About midway through the off season I was looking at the bullpen and thinking EWWWW, but if you look at it now...It's utterly stellar and there is actually going to be a number of quality arms left off.
Here is how I see it looking on April 3rd.
Osuna
Storen
Sanchez
Cecil
Chavez
Biagini
Schultz
Venditte
Not ideal to carry the 8 guys, but I imagine there may be a sneaky sneak waiver play with someone in the 1st part of the year.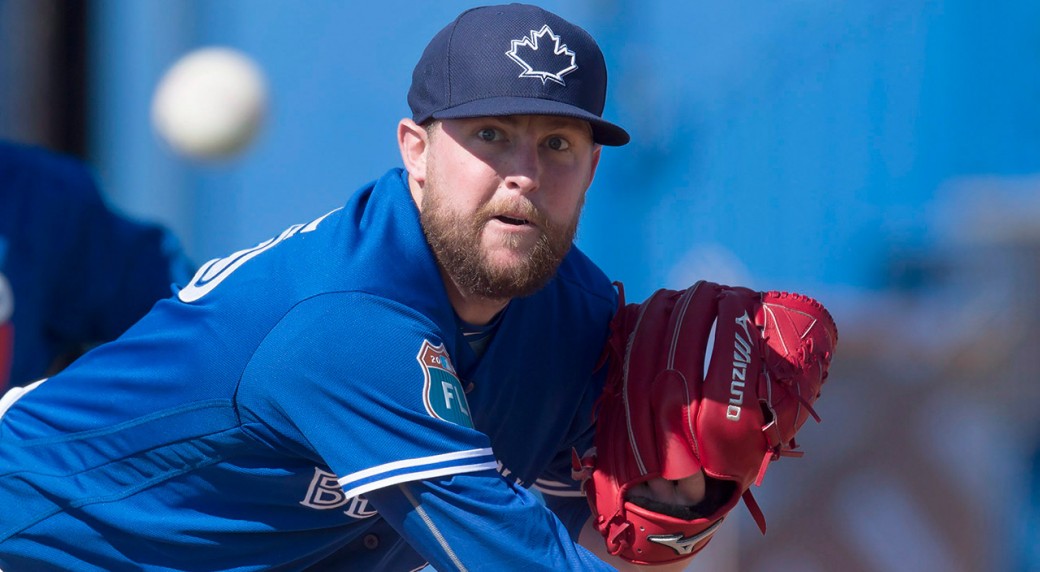 5. Pat Hentgen may be my favorite Ex-Blue Jay right now. This guy is one of the most interesting guys to listen to talk about the Jays. He really seems to have a great handle to the pitchers in the organization and really does a great job of explaining things to the every man listening on the other end.
Take a listen to the link below of a recent interview with Hentgen about the pitchers in the org and his role with the club!
http://www.sportsnet.ca/590/jeff-blair-show/pat-hentgen-battle-blue-jays-fifth-rotation-spot/
I really hope this new organization sees the true value in him and make sure that he is a part of the Blue Jays for a long time!