Blue Jays pitchers and Catchers took part in their 1st official workout today and after a a long couple months Baseballs back.....and holy shit the Blue Jays had quite an interesting 1st day back at the ballpark....or complex in Dunedin.
1. So....It's the 1st day or work outs and I can't start off by saying anything other than that it's great for Baseball to be back....After 4 months of off season signings, trades, front office hiring, press conferences, online lynch mobs, and an never ending discussion around a former GM..... it's nice to have have a semblance of the actual game started again!

2. So yeah....The Big Rumor out of the night is that the Blue Jays are on the verge of trading for Jay Bruce. Rumblings seem to suggest that the teams are waiting on the Physicals to be completed with all the players involved in order to announce anything...So I guess this makes the Jays a little more scary as a Home Run threat...Listen I don't think this trade is horrible if the Jays get some money back and they don't send out any prospects, but to be honest for this 2016 team I'm not sure Jay Bruce is the type of player that they need to win. Sure they are still going to score a bunch of runs, but I've always thought that they need some type of professional hitter in the line-up and Jay Bruce doesn't fit that mold. It's not like Saunders is that either and let's face it he's not exactly the model of health, but I don't see how this trade makes the Jays any better than they would be with Saunders playing LF. Who knows...This could all killed if Saunders medicals come back wonky....which it probably will
3. The other big news maker from the day was from Joey Bays himself who in not so many words said that he's going to be getting paid in 2017 in some way or another. If you haven't seen what Jose said check it out and do yourself a favor and look into what he said about Rogers and their position in all of this. It's pretty interesting and really shows that Jose has done his homework and has a great understanding of how the unique ownership situation of the Blue Jays works. I'm thinking that Jose has asked for somewhere in the 150M over 6 years range. To be honest I think he would sign for 125M over 5 years, but something tells me that he is really interested in hitting the Free Agent market and if the Blue Jays want to keep him from doing that then they are going to have to provide a considerable benefit to him in order to do so.....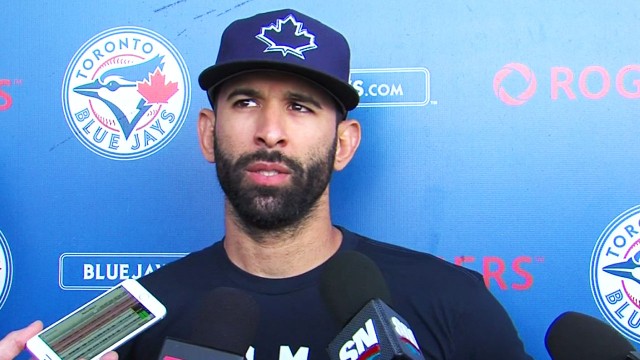 4. So let's play the who'e the 5th starter for the Blue Jays game.... Who you got? Me i'm saying that it's Aaron Sanchez's to loose. I wouldn't say it's an open and shut case, but with the acquisition of Drew Storen it became a hell of a lot clearer to me that the Jays would rather have Sanchez make that transition back to Starter with the opportunity to finally reach his maximum potential....+ he put on 20lbs of muscle.....cause I guess that means something.
5. I think one of my favorite things this spring training is going to be the complete over the top Blue Jays coverage that we are going to get from the Canadian Sports Media Companies....I've entered into a slow decent into not enjoying watching the current NHL/Hockey as I find it the most over analyzed, boring, complacent sport out there and given that thirst for Baseball is so great right now i'm just excited that Baseball talk is going to take over for at least some of the mundane hockey talk that exists in the Toronto Sport market currently.