Couple days away, but here are 5 thoughts on the Toronto Blue Jays!
1. After a horrible weekend against the Chicago White Sox it't becoming more and more apparent that the Jays current line-up is absolutely horrible at hitting LH pitching. I've pretty much convinced myself that the Jays aren't going to make a play for anyone until we get very close to the trade deadline, but I really think the Jays need to go after either a 3rd or 2nd baseman who can handle the bat. I've narrowed my list to Chase Headley if I had to pick one guy as I would hope that his recent struggles, pending free agency and 10M + salary may lead to some kind of reasonable return. I'm not sure exactly what that would mean, but I would hope this is something that the Jays could work out and allow Headley to come to a hitters firendly park and really fall into his old self in time for a playoff run!
2. I guess one way to look at the past series against the White Sox on the bright side is to be happy that both the Orioles and the Yankees both lost their respective series as well and the Jays didn't loose any ground in the AL East, however the pessimist in me only sees this weekend as an opportunity lost. It's not every weekend when you go against' a sub .500 team while everyone else in your division is playing each other. If the Jays could have taken 3 out of 4 for the White Sox we would all be feeling a lot better about our place in the division right now, except now we could be looking back at this series in September as one of those series that defined our year! Opportunity lost!
3. Well tomorrow is one of my favorite days down at Roger's Centre. Canada Day! Now we don't always get to celebrate Canada Day down at Roger's Centre, but it always seems to be a great day when we do! In fact the Phillies series from a few year's ago that featured the return of Doc, Canada Day game and the comeback versus Cliff Lee is one of my favorite weekend's spent at the Ball Park. Hopefully tomorrow is another day in a long line of great Canada Day games!
4. So deadspin has an article out today that featured leaked trade discussions between the Huston Astros and many other MLB teams and one of those teams was the Toronto Blue Jays! Now one of the things that seemed to be a prevailing topic out of the article was that they trade scenarios that were being thrown back and forth seemed to be almost like two guys in a Fantasy baseball league trying to make a trade! Well ya! I pretty much think that's exactly how it goes...yeah i'm sure there is alot more background to the whole process, but as a part of a negotiating process i'm pretty sure each GM when approached about a player asks for more than they are ultimately willing to settle on for that particular player. Isin't that one way to ensure that you get what you are looking for through negotiations? From a Jays POV I try not to think of it as "Really they wanted Storman and Gose for Norris but i would rather look at it as if AA was ever approached to trade Jose Bautista I would want him to ask for the entire Minor League system of whatever team was looking to get him 1st and then work towards the best possible deal that he could get, and you can't do that without asking for the moon.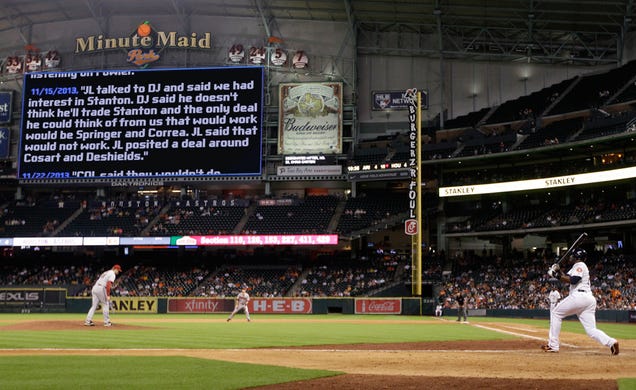 Link to the article -
http://deadspin.com/leaked-10-months-of-the-houston-astros-internal-trade-1597951970
5. In another great piece of partnership marketing Roger's the Fan 590 radio station will be playing 6 upcoming Buffalo Bisons games on the Radio. The 1st game is tomorrow, which is a day later than I was hoping since Aaron Sanchez got the start tonight, but in the end this is another great opportunity for Jays fans in the GTA to get a little better acquainted with the AAA ball club that is ever so close to it's own back yard. For more information on the rest of the games check out the link below!
http://www.milb.com/news/article.jsp?ymd=20140318&content_id=69547952&vkey=news_t422&fext=.jsp&sid=t422